Route 66 - Part 1
McLean, IL to Springfield, IL
55 Actual Miles / 555 Actual Elevation
The riders left this morning under the threat of rain, but no one got super wet; a sprinkle here, a few drops there.\; a steady drizzle for a while.... Aside from a very confusing turn on the the cue sheets upon entering Springfield, I think the ride today went very well. I will have to relook at the cue sheet and fix the confusion..but it appears that everyone still had a good ride and made it to the holtel in one piece.
Atlanta
Bunyon Gemini Giant
(formerly of Cicero, IL) relocated here along with a Giant Hot Dog.
J.H. Hawes Grain Elevator Museum -
301 SW Second Street [217-648-2056] This grain elevator, circa 1900, is "standing on its original site" and is further described as a "skyscraper of the prairie."
Atlanta Public Library
[217-648-2112] built in 1908 is octagonal in shape and their museum downstairs is well worth the visit. Out front stands a 40-foot clock tower, wound by hand every 8 days.
Yellow Water tower with a giant smiley face
The Lawndale grain elevator (with old Faultless Feed sign) is the most visible building of Lawndale. It is just

a very small community beside Route 66 where the highway crosses Kickapoo Creek.
The only town named for Honest Abe while he was alive. As a young lawyer, Abraham Lincoln drew up the legal documents for founding the town but warned developers that he "never knew of anything named Lincoln that amounted to much." At the dedication ceremonies, Lincoln supposedly "baptized" the place by spitting out a mouthful of watermelon seeds--hence the plaster watermelon and historical plaque remembering the great event, next to the train station at Broadway and Chicago Streets in the center of town.
Lincoln was also home to Harlem Renaissance poet Langston Hughes (1902-1967), who was elected class poet while in the 8th grade.

The Mill - Stringer Avenue – Originally named the Blue Mill; this restaurant was first established in the 1920s. The exterior of the building was made to resemble a Dutch-style windmill, including a set of lighted blades that actually turned. Part of the building consists of an army barracks that was salvaged from Camp Ellis when it was deactivated in the aftermath of WWII. Today, the exterior includes a sign that states "Home of the Schnitzel Since 1945." After sitting dormant for many years, an effort was initiated in 2007 to save The Mill from the wrecking ball and restore it as a museum.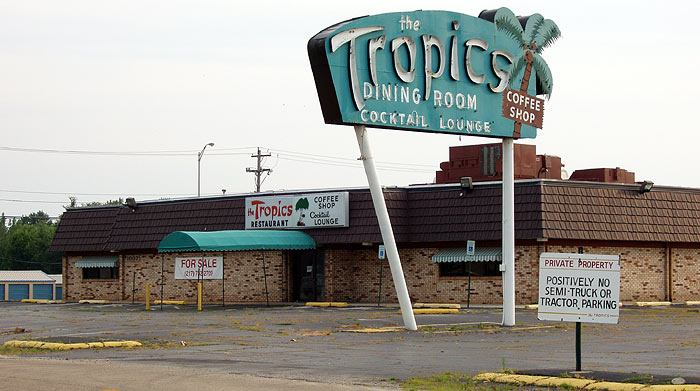 The Tropics
- Dining room and cocktail lounge whose name was inspired by the owner's service in Hawaii during WWII. It still sports an excellent neon sign.

Lincoln College Museum - 300 Keokuk Street [217-732-3155]
Heritage in Flight Museum – A building that once housed German prisoners-of-war, is now a museum filled with aircraft and other artifacts dating to WWI. Located at Logan County Airport.
Giant Abe Lincoln and wagon (formerly of Divernon, IL) has moved to the corner of Lincoln Parkway (BYP 66) and IL Hwy 10 (Woodlawn). It is recognized by the Guinness Book of World Records as the "World's Largest Covered Wagon."
Pig Hip Restaurant & Motel Museum - Eatery established by Ernie Edwards in 1937 and known for its patented pork sandwiches. The restaurant closed in the 1990s, but was later converted into a museum. Tragically, the building and its contents we're consumed by fire in March 2007. Since then, Ernie has been receiving visitors at his home next door, where he has a limited amount of memorabilia to enjoy. What remains of the Pig-Hip legacy may be transferred to The Mill in Lincoln once that structure's restoration is completed and it is reopened as a museum.
Grain elevators dominate the skyline
Rich G and Bill K stopped to say hello along the way and tighten a loose fitting on Bill's GPS before arriving in Williamsville, IL
Dream Car Museum
[217-566-3799] - which houses an admirable collection of nostalgic autos and relics.
Die Cast Auto Sales - 117 N. Elm consists of a 1930s era gas station filled with toy cars and
collectibles, plus old gas pumps and signs on view outside.
Illinois State capital moved here from Vandalia in1857. Abraham Lincoln lived and worked here 1837 to 1861. He left Springfield after being elected president and was buried here after his assassination at the end of the Civil War.
Lincoln Presidential Library & Museum - 212 N. 6th Street [217-782-5764] Comprehensive, reverential and thought-provoking 200,000 square foot exhibition. Other sights include the only home Lincoln ever owned at 8th and Jackson Streets, his law offices at 6th and Jackson Streets and his tomb at Oak Ridge Cemetery.
Cozy Dog Drive-In - 2935 S. 6th Street [217-525-1992] A famous Route 66 eatery in the Illinois capital established by Ed Waldmire, Jr., shortly after WWII that is still run by members of his family. Waldmire is credited by many as being the inventor of the corn dog--a batter-covered hot dog served on a stick, which he dubbed the cozy dog--now a staple at traditional American events such as state and county fairs. The cozy dog premiered at the Illinois State Fair in 1946.
Abraham Lincoln, 16th President of U.S.
Abraham Lincoln - The sixteenth president of the US, Mr. Lincoln resided and practiced law in the Route 66 town of Springfield, IL, where there are numerous sites significant to his life. His family mausoleum is located in Springfield's Oak Ridge Cemetery.
Linconln's Tomb
Oak Ridge Cemetery - Large cemetery in the Illinois capital where the city's most famous citizen, President Abraham Lincoln, is interred. Legend has it that if you touch the nose on the bronze bust of Lincoln, good luck will follow.
Rail Splitter - A nickname for Abraham Lincoln, sixteenth president of the US; official title of a 30-foot-tall sculpture of a clean-shaven Lincoln, which stands in front of one of the buildings on the Illinois State Fairgrounds in Springfield. The sculpture (completed in 1968) is the work of Carl W. Rinnus, a Springfield native.
Shea's Gas Station Museum - 2075 N. Peoria Road [217-522-0475] Former fueling station on Route 66, now housing an extensive collection of gas station and Mother Road-related memorabilia. Bill Shea has spent most of his life at the side of the highway, and his one-of-a-kind collection clearly demonstrates it.
Dana-Thomas House - 301 E. Lawrence Avenue [217-782-6776] Designed by Frank Lloyd Wright in 1902, it is the most luxurious, best preserved, and most fully furnished of his houses. The house was built for socialite Susan Dana, who lived there until the late 1920s, when it was sold to a publishing company and used as offices until the state of Illinois purchased in 1981.
Lauderbach Giant
- Wabash Street at Lauderback's Tire and Auto Service. He is the last of the three giants on '66 in Illinois.

We are staying at the Route 66 Hotel & Conference Center in Springfield, IL. What a really cool, kitchy place!